Our Facility
On-farm
Situated in the heart of the Riverina/Murrumbidgee Irrigation area amongst the rich fertile fields that grow our diverse range of malting grains. Our on-farm craft malting facility offers enhance resource efficiency (see more about our sustainability here) and also the opportunity for visitors to connect firsthand with sustainable agricultural practices and the growers responsible for producing the high quality grains we malt.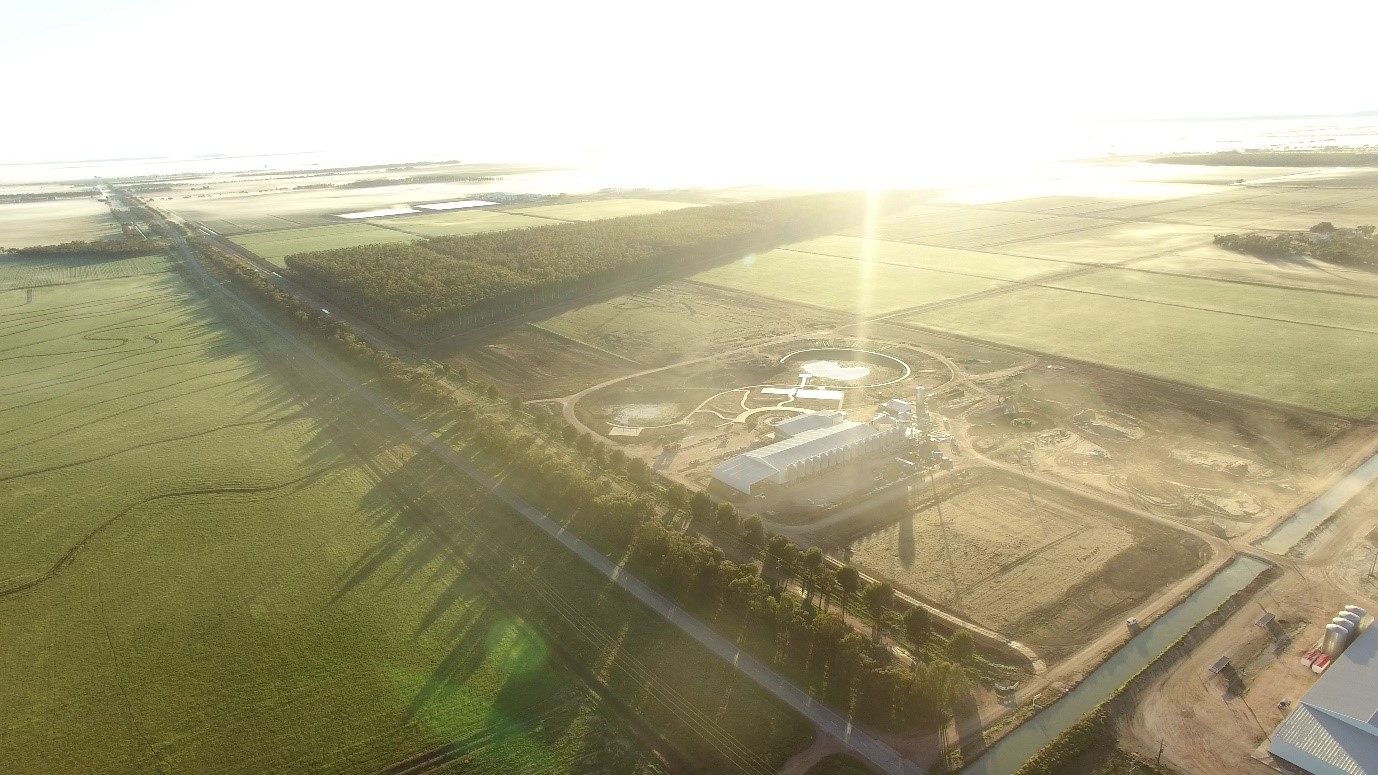 Malting Facility
Our custom designed state of the art on farm malting facility carefully blends innovation and history for sustainable success. Improving on conventional standards in versatility, reliability, scalability, quality and resource efficiency whilst paying respect to the traditions and art of cereal grain production and malt processing.
Grain receival
Weighbridge and automated grain pit intake system.
Storage
A wide range of sealed and aerated silos for complete segregation and storage of all raw grain.
Grain/Malt Cleaning
Automated 8 screen multicleaner with additional separate aspiration, deawning and indent cylinders ensures highest level in grain and malt cleaning.
Steeping
Custom designed 1, 12 and 50 tonne steep tanks suited for wide range of grains and seeds.
Fully automated temperature control of wet and dry rests, with monitoring, alarms and reporting through HMI.
Malting/Sprouting
Custom Designed fully automatic Pneumatic Germination Kiln Vessels. With flexibility to scale from 400kg to 50tonnes across 6 individual vessels.
Testing
Dedicated laboratory for full raw grain and malt analysis including malt sensory table, NIR protein/moisture, Test Weight, Screenings, Retention, Germ Count, FAN, Betaglucans, Extract, Friability, Gluten, Fermentability, Colour, Saccharification, Diastatic Power
Smoking
Pilot system and larger commercial scale smoking units-ability to smoke a wide range of mediums(walnut shells, native timber, peat, barrel shavings) in traditional green malt or dry malt stages.
Roasting
100kg drum roaster enables us the flexibility to roast to order for clients in batches as small as 10kg.
Packaging
Semi automated packaging lines with ability to pack into 10kg, 15kg, 20kg and 25kg bags.
Custom filled bulk bag (200-1200kg)
Bulk truck load
Storage
Secure onsite warehouse with cold and ambient storage options for malt products, plus sealed finished malt silos up to 80 tonne.
Cellar door
Our onsite cellar door, the Whitton Malt House is proud to take you on a journey from the farm gate and across the malting process to enjoy some of the finest products in Australia. Partnering with farmers, malting experts, leading brewers and distillers, we have carefully put together a selection of malt-based products and experiences for our visitors, clients and their guests to enjoy, and ultimately learn more about the agriculture, people and communities behind them.
Lake side accommodation
Maltings tours and tastings
Craft beer bar
Whisky bar
Function Centre
Conference rooms including Cellar.
Restaurant – with malt inspired dishes featuring local produce.
Aqua golf
Children's play area.